Homes for Sale in Jamestown, NY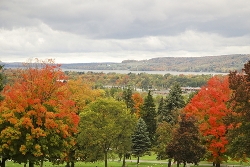 The Jamestown real estate market features a number of extremely affordable character homes built for families. The majority of houses were built prior to 1939 and feature everything from Victorian and Federal architecture to Cape Cod style and old world Gothic. The downtown streets are lined with sturdy brick buildings enhanced with ornate details and stonework inspired by European and Greek designs. Owners of homes in Jamestown enjoy strong sense of community and the Chautauqua Lake region's gorgeous natural environment. Come and visit this beautiful town and see why living here is a popular choice.
Homes in Jamestown NY: Rich in American History
With a population of just over 31,000, Jamestown homes are located in the largest city in the Lake Chautauqua region. Amenities include an airport, hospital, community college, and a business college. Cultural attractions include: the Roger Tory Peterson Institute of Natural History, Fenton Museum of History and the Jamestown Audubon Nature Center. Jamestown is also proud to be the birthplace of comedienne Lucille Ball and home of the Lucy-Desi Museum.
Take a moment to register with our website. That way, when a home matching your search criteria is listed, we'll send you an email right away.
Real Estate in Jamestown: A Baseball Town
Jamestown real estate is just a stone's throw from a number of public baseball and softball fields. The city also hosts the annual Babe Ruth World Series for youth. Figure skating, hockey and soccer are also popular. The city boasts a double ice arena and maintains a number of parks and playing fields for public use. Owners of Jamestown homes also enjoy the city's beautiful location on the shores of Lake Chautauqua which offers great opportunities for fishing, boating and swimming.
Please don't hesitate to contact us if you have any questions or would like to get started on the search for Jamestown homes for sale. If you have questions, we have answers.