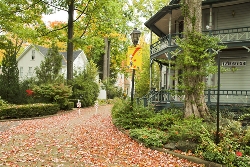 Homes in Chautauqua Institution are located in a Victorian-era gated community that holds an important piece of American history. Founded in 1874 as a retreat for Sunday school teachers, Chautauqua Institution sparked a revolution in education and leisure that swept across the country in the form of traveling Chautauquas: educational communities that combined spiritual enrichment with fresh air, music, and art. Buyers will find a delightful mix of real estate in Chautauqua Institution, ranging from 19th-century luxury mansions with Victorian detailing to beautiful newly built houses. Mature trees and gardens grace dot the landscape and many homeowners enjoy panoramic lake views. Buyers wanting to create their own piece of history can purchase vacant land for development.
Chautauqua Institution Real Estate: A Gated Community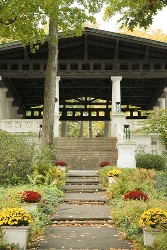 Homes in Chautauqua Institution are located in a National Historic District. The area has evolved into a contemporary community renowned for its fine and performing arts and theological debate.
"There is no place like it. No resort. No spa. Not anywhere else in the country or anywhere in the world. It is at once a summer encampment and a small town, a college campus, an art colony, a music festival, a religious retreat and the village square. And there's no place with anything like its history."
~David McCullough (Pulitzer prize-winning historian)
The Institution was named #1 on The 20 Best Small Towns to Visit in 2014 by SMITHSONIAN MAGAZINE We look forward to helping you find your own special piece of real estate here.
Chautauqua Institution real estate is home to only 400 residents year-round. The population swells to 10,000 during the summer season from June to September. This wonderful 255-acre community is located on the shores of Lake Chautauqua. The area is served by the Chautauqua County Airport at Jamestown, New York (15 miles south of Chautauqua Institution).
Take a moment to register with our website. When Chautauqua Institution homes matching your search criteria are listed, we'll send you an email right away to let you know. Registering is free, easy, and only takes a minute!
Homes in Chautauqua Institution
Chautauqua Institution real estate is located in a very walkable community. Bikes and scooters are popular means of transportation, and there is a 12 mph speed limit for cars. Parking is limited to the outskirts of the community, which maintains the community's slow pace and boosts the property value of homes in the core of the village.
Owners of homes in Chautauqua Institution enjoy amenities such as a 6,000-seat wooden amphitheater, library, movie theater, bookstore, shops, restaurants, historic hotel, picnic spots, and beach. Ongoing activities include a symphony, opera, dance, theater, lectures, readings, visual arts, golf, tennis, swimming, and youth programs.
If you have questions about real estate in Chautauqua Institution, As lifelong residents of Chautauqua County, we have answers! Please don't hesitate to contact us!